Overview
What is PGM?
Project and Grants Management (PGM) is a module within Oracle Financials Cloud (OFC) that allows users to identify projects and associated awards. Simply put, PGM is a way to group together and report on detailed costs, streamlining processes for maintaining information.
Our scope currently includes Sponsored Projects (encompassing external Grants and Contracts), Faculty Funds (including Startup, Retention, and Discretionary funding allocated to faculty), and DFSS or Capital projects.
Project Criteria
If a project meets any of this criteria, it should be tracked in PGM:
Externally funded by an award notification or other agreement made through the Office of Research (i.e. Sponsored Project, a policy-defined activity)
Funding allocated to a Senate faculty member that requires dashboard level reporting and recurring transactional approval from PMs and PIs
One of the following:
A) Capitalizable
B) Construction project
C) Feasibility study managed by FM or D&CS
Body of work defined for a period of time during which there will be a significant number of transactions, plus one of the following:
A) Multi-fiscal year Inception-to-Date reporting required
B) Internal reporting needs are not met by referencing another CCOA segment value
Benefits of PGM
Access to the most up-to-date information, allowing you to better serve your departmental constituents
Reduced redundancy of data entry
Simplified reconciliation process
Integration with other campus systems 
Expanded functionalities for indirect cost generation, budgetary control, lien/commitments, and reporting (e.g. dashboards)
Future Design Examples
As a reminder, our design focuses on the Award - Project – Task relationship.
Sponsored Awards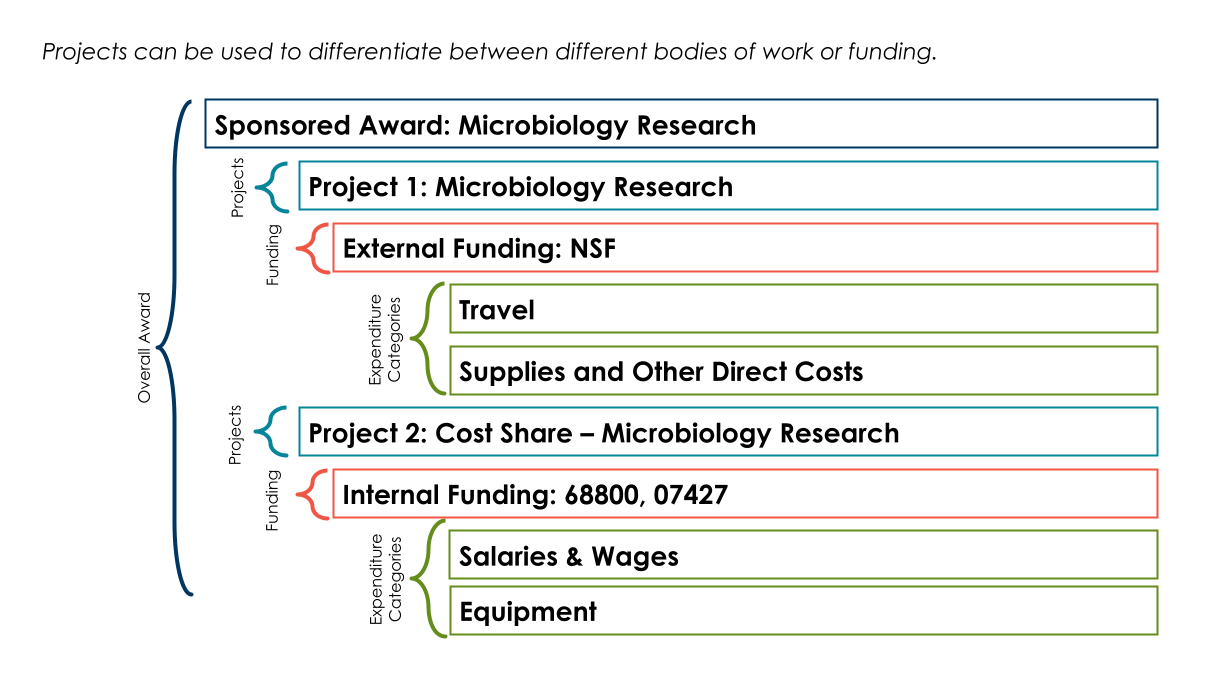 Non-Sponsored Faculty Awards 
Current Progress
The PGM team is working to ensure future processes are consistent, streamlined, and meet the needs of campus. Currently, we are completing the design for future-state tracking of Faculty Discretionary funding and working with our Business Process Design team to identify areas of improvement. We look forward to additional interaction with department users to gather feedback as these designs are finalized. 
In addition, 77 departments on campus are participating in shadow system data clean-up activities, working closely with the PGM team to identify, clean up, and collect appropriate departmental data for conversion into OFC.  Visit the PGM Data Conversion page to learn more about ongoing conversion efforts.
Frequently Asked Questions
Visit the FMM FAQ page for answers to common questions regarding the transition to Oracle Financials Cloud, sunsetting GUS, the new CCOA structure, and more.